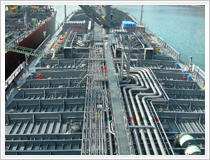 Building a new ship is a large investment for our ship owners. Thus, prior to any newbuilding project, New Building Project Team carries out newbuilding supervision such as the approval of drawings, kick-off meeting, block inspection, propulsion machinery and test runs at sea in compliance with the demands of our clients.

Supervision of Superintendent
Progress management
Quality management
Inspection management
Management of Superintendent and Site Inspector
Checking reports to owners

Assistant to the Site Manager
Reporting to the owners
Management and operation of the progress, quality and inspection
Supervision of the Site Inspector

Assistant to the Superintendent
Paint inspection
Block inspection
Frisio certificate holder
Nace cip 1 certificate holder

To satisfy clients' needs by building top of the line ships


Project site manager, site superintendent, and site inspector will issue Non-conformity reports to yard QA and class.
Plan modification, local calculation, FEM analysis, NDT, all to be involved with class. Confirmation survey, inspection to conclusion of construcion.
akers direct comment will be discussed, involve class in case of non-conformity.
Scheduled and non-scheduled patrol inspection result detail record.

The object of the meeting is to ensure agreement between Yard and Owner with Supervising Company (N.B project team) about the execution of the project including extent of approval and inspection on the basis of class rules with building specification.
Participants: Owner, Yards, Class, N.B project team

To exchange information and discuss at weekly meeting
Status of progress
Class survey performance
Documentation status
Corrective action to solve deficiencies / non-conformities
Participants: Yards, Class, Owner, N.B project team

Details of the qualifications of our N.B project team.
13 Site managers

Tanker experience: VLCC, Chemical Tanker, Product Tanker, & Mega Container; new building: more than 5 years - 6 site Managers,
  more than 10 years - 2 site managers
1 Class I Marine Chief Engineer
2 FROSIO Level III holders, 2 NACE Level II holders

7 Superintendents

Tanker experience: VLCC, Chemical Tanker, Product Tanker, & Mega Container; new building: more than 5 years
Mechanical Engineer
3 FROSIO Level III holder, 1 NACE Level I holder

6 Assistant Inspectors

Assist superintendent
Paint Inspection, Block(welding) Inspection

FROSIO is a professional council established in Norway with the aim of elevating the quality level within all aspects of the surface treatment trades. It certifies inspectors in accordance with NS 476 and is recognized as an international qualification concerning all aspects of surface treatment.